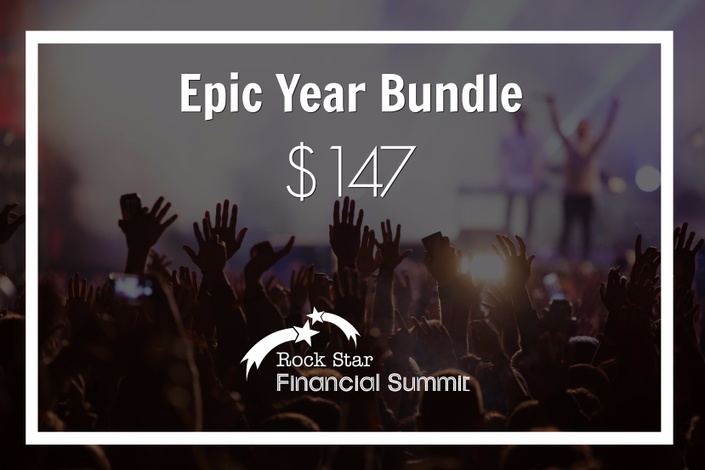 New Year, New You 2017 Financial Summit - Epic Year Bundle
All 16 webinars plus, 12 bonus sessions, and over $300 in bonus materials

The New Year, New You 2017 Financial Summit is designed to help you skip the resolutions and master your money this year. We've rounded up over 20 speakers to talk about topics that will help you finally get a handle on your money situation. There are years of combined experience here that will get you up to speed on everything you never knew about money.
But wait...there's more!
We've included tons of bonus content in the form of eBooks, eCoures and additional sessions. The complete summit bundle offers great value on information you'll need to get your finances together for 2017.
The complete summit bundle offers fifteen informative sessions* (plus bonus sessions) from different financial experts on topics of:
Budgeting Basics
Money & Relationships
Boosting your Income
Dumping Debt
Investing for your Future.
Bonuses:

6 Bonus Sessions:

How the Average Josephine Can Achieve Financial Freedom, Todd Tressider of Financial Mentor
How to Rebuild to a Fabulous FICO Score, Tonya Rapley of My Fab Finance
How to Pay Off Your Mortgage in 5 Years with Andy Hill of Marriage, Kids & Money

Achieve More with Vision Boards: Michelle Jackson from Shop My Closet Project

Teaching Your Kids to Be Money Savvy and Generous with Aja from Principles of Increase
Mastering Money Dates with Elle Martinez of Couple Money

6 Epic Year Bonus Sessions:
Lending Money to Family Without Getting Burned with Elle Martinez of Couple Money
$20 Date Night Challenge with Elle Martinez of Couple Money

Dumping Debt Secret Weapon with Toni Husbands of Debt Free Divas

Slash Your Budget Tips with Kristia Ludwick Kristia Ludwick of Family Balance Sheet and Michelle Jackson of Shop My Closet Project
2 "Epic" Sessions- We dive deeper into what you need to master your money in these exclusive and private sessions. You submit your biggest money questions and we answer!
Additional Bonus Material:
The speaker line-up includes:
Phillip "PT" Taylor is a CPA who started PTMoney.com in 2007 to share his experiences with successfully managing money. He's gone on to develop and coordinate FinCon, an annual conference for financial media and personal finance professionals.
Melanie Lockert of DearDebt.com- Melanie Lockert is a freelance writer and event planner currently living in Los Angeles. She is the author of Dear Debt: A Story About Breaking Up With Debt. She has been featured on Oprah, Huffington Post, Business Insider, The Globe and Mail and more.
Latisha Styles of YoungFinances.com

- LaTisha "Tish" Styles is a nationally recognized millennial personal finance expert and digital marketing professional. She is the founder of YoungFinances.com and President of Financial Success Media, LLC. Through her signature training programs, LaTisha helps service based entrepreneurs build a lead generating system to attract new clients. She has been featured in The Economist, quoted in Forbes, and mentioned in U.S. News and World Report as a top personal finance expert to follow on Twitter.

Matt Becker of MomandDadMoney.com is a fee-only financial planner and the founder of Mom and Dad Money, where he helps new parents take control of their money so they can take care of their families. His free time is spent building block towers and jumping on beds with his two awesome boys.

Tai and Talaat of HisandHerMoney.com- Talaat and Tai McNeely "America's #1 Money Couple", are Financial Educators that are on a mission to get individuals and couples on the same page financially, and to experience the joys of financial freedom. They are co-authors of Money Talks: The Ultimate Couple's Guide To Communicating About Money. They are also the hosts of the top rated podcast, "The His and Her Money Show". Talaat and Tai McNeely (His and Her Money) have been featured in numerous publications such as T.D. Jakes Show, FoxNews.com, MSN.com, Essence, and Business Insider.
Jessi Fearon of TheBudgetMama.com- Jessi is the founder of the popular personal finance blog, TheBudgetMama.com, where she shares her family's real life on a budget in order to help others learn to manage their money better. Jessi's work has been featured on Buzzfeed, Rockstar Finance, TIME/Motto Magazine, Money Saving Mom, The Huffington Post, and DaveRamsey.com. Jessi resides in the foothills of the Blue Ridge Mountains of North Georgia with her husband Pat and their three children Conner, Collin, and Charlotte.
Hilary Hendershott of Profit Boss Radio- Hilary Hendershott is a Certified Financial Planner on a mission to motivate women to be financially empowered. She's the host of Profit Boss Radio, a weekly podcast that offers actionable advice, inspiration and authentic stories to support women in their financial journey.

Nick Loper of Side Hustle Nation- Nick Loper helps people earn money outside of their day job. He's an author, online entrepreneur, and life-long student in the game of business. His latest role is as Chief Side Hustler at SideHustleNation.com, a growing community and resource for aspiring and part-time entrepreneurs.
David Auten and John Schneider of Debt Free Guys. David and John are personal finance authors, bloggers and speakers. With over thirty-five years of combined experience in finance, they are leading the charge to create a financially strong queer community. Their work has appeared in Yahoo Finance, Huffington Post, Business Insider and Time to name a few. You can listen to their weekly podcast, Queer Money, which is the only show talking about the financial nuances of the LGBT community.

Maureen Campaiola is a blogger at A Debt Free Mess Free Life, former executive turned debt free guru. She aims to help women uncover the resistance to simple and organized living and become masters of their home and money.
Lynette Khalfani-Cox is The Money Coach® - a personal finance expert, television and radio personality, and the author of numerous books, including the New York Times bestseller Zero Debt: The Ultimate Guide to Financial Freedom. Lynnette once had $100,000 in credit card debt, before paying it all off in three years and turning her financial life around. She's an award-winning financial news journalist and former Wall Street Journal reporter for CNBC, has also been featured in top newspapers including the Washington Post, USA Today, and the New York Times , as well as magazines ranging from Essence and Redbook to Black Enterprise and Smart Money. Lynnette is a money expert for AARP. She can frequently be seen as a guest commentator on CNN, FOX Business Network and MSNBC.

Mindy Jensen- Community Manager forBiggerPockets.com. She's a real estate investor, personal finance nerd, DIY girl, and secretly Mrs. 1500 (Shhh! Don't tell anyone.) She and her husband saved over $1 million in four years to retire at the age of 43.

Sandy Smith of Yes I am Cheap- Sandy Smith is the queen of the side hustles. There isn't a side hustle that she hasn't worked. She also managed to pay off $50,000 in debt while unemployed. Sandy shares hard learned lessons with her Hustle Crew and readers of her blog, Yes I am Cheap

. Looking to grow your income and change your life? Sandy has some tips for you.
*Purchased sessions will be available to download until 3/31/2017.
Your Instructor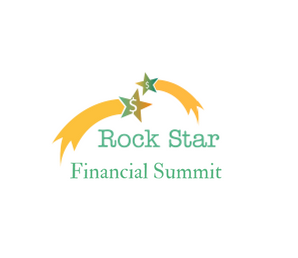 Course Curriculum
Budgeting Basics
Available in days
days after you enroll
Money & Relationships
Available in days
days after you enroll
Boosting Your Income
Available in days
days after you enroll
Frequently Asked Questions
How Long do I Have Access to the Purchased Sessions?
You will have until March 31, 2017 to download all the sessions to your local device. Before that time, you will be able to access the sessions through the Teachable interface located at : http://pfrockstars.teachable.com/
What is Your Refund Policy
You are welcome to test drive the summit from January 9-15, 2017 for FREE to make sure the webinars are right for you. The Complete Package includes all 15 webinars to download for future viewing, plus many bonuses. Please be sure the package is right for you before you purchase, however, if you decide it's not, we offer a 30 day refund.
What if I have a question or need assistance with the downloads?
You can login into the Teachable online portal for our school (http://pfrockstars.teachable.com/) and open a support ticket with the Teachable staff.